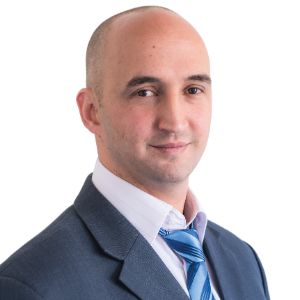 Ori Almog, CEO
Eliminating low-value and tedious processes have always been a primary goal for businesses across industries. Thanks to technologies like robotic process automation (RPA), smartly executing repetitive tasks has become easier than ever. Automating manual tasks means that processes like granting permits can become self-serviced, cloud-based, and compliant. This can help councils and facility operators provide a better, faster, and seamless experience for their residents, staff, or guests.
Based in New South Wales, Smarter City Solutions leverages the power of IoT and RPA to cater to the growing needs of councils and campus-based facility operators around the globe. Smarter City Solutions' foundation was laid ten years ago as CellOPark Australia, a smarter parking solutions provider for councils and universities around Australia. Smarter City Solutions integrated offering is an award-winning parking payment and management solution that implements Virtual license plate environment with Mobile License Plate Recognition (MLPR) technology to make on and off-road parking management quick, easy, and simple for both motorists and parking operators. The solution can also utilize sensors designed for intelligent data indication and gathering. The sensors indicate bay availability, enforcement alerts, monitor asset usage, gather parking pattern statistics, smart data acquisition, and analytics.
"We are customer-focused, feedback-driven, and improve our solutions according to customers' requirements," says Ori Almog, CEO of Smarter City Solutions.
Smarter City Solutions provides vPermit, a self-service digital platform which gathers data from the client's existing management systems to validate and issue permits. Client's staff and visitors' parking permits are automatically assessed against their data from the management's ERP or HR and Finance platforms, enabling automatic self-service, and fully compliant permit processing.
Smarter City Solutions' vCompliance assists parking officers with accurate and efficient tools to detect parking offenses, optimize revenues by increasing compliance, and parking space availability.
We are customer-focused, feedback-driven, and improve our solutions according to customers' requirements
vCompliance is an integration of smartphone capabilities with an advanced backend system to enable parking officers to validate a car based on data extracted from MLPR technology to check for eligibility, payments, overstays, and provide an instant indication of parking status. In case of an identified misdeed, the parking officer can take a picture of the violation from their smartphone and print a ticket using a Bluetooth connected printer, or automatically mail infringement notices without the need to print.
Where enabled, the platform also allows motorists to check the details and status of their infringement in real-time along with vehicle information, photographic evidence, GPS location, and associated costs, with the ability for parking operators to offer an online payment option for those infringements. Even a digital statutory declaration can be added to a ticket if needed.
The parking officers can view collected enforcement revenue through different filters, manage appeals, and get a full overview of infringements status from a central visual dashboard.
To further elaborate Smarter City Solution's strong foothold in this domain, Almog recalls collaborating with Deakin University. During the beginning of the semester, hundreds of students used to queue up to apply for parking permits, causing chaos and stress over the whole system. Smarter City Solutions deployed its integrated parking management system for the university's open-air and non-gated multi-level car parks. The extensive rollout consisted of solutions such as PAYG (Pay-by-App, Pay-By-Plate machines, Pay-by-Phone, Pay-by-Web), MLPR, web-based enforcement validation tools, and the vPermit payment solution including integration with university's legacy systems such as payroll, student and staff Identity. This automation enabled to reduce the workload by 50 percent while enhancing the working conditions of Deakin University's parking staff. The virtual permit platform provided huge increases in efficiency, reduced costs by offering a greener solution to providing parking permits. Permits were no longer required to be printed and displayed, and this meant that Deakin reduced costly permit machine infrastructure by 71 percent and queuing for permits became a thing of the past. This Cloud parking solution was recently awarded the Deakin Vice- Chancellor's "2017 Award for Outstanding Contribution through Innovation that Spans the Experience promise".
Smarter City Solutions' user-friendly platform with several payment options, including automatic reminders, real-time notifications, connection to debt collectors and road authorities, and many more such integrations indeed increases the operator's ROI while optimizing the complete process. The firm has become Australia's first fully digital council permits system provider and aims to improve the customer experience with many more. "What sets us apart is a combination of our years of experience and how we work with our clients to accommodate their requests," concludes Almog.