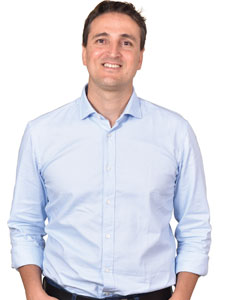 Harel Tayeb, CEO
Robotic Process Automation (RPA) is a recent development in automation technology, but has quickly evolved into a necessity for businesses who are serious about optimizing employees and resources. RPA removes the robot from the human, freeing them to focus on more important strategic tasks that require emotional intelligence, reasoning, and judgment. In the modern-day, with RPA tools being extensively used in banking, finance and accounting, insurance, retail, manufacturing, and telecom sectors, only a few vendors are at the forefront of tackling the challenges this space has to hurl. One name that stands out amongst the top firms in the space is Kryon--a leading provider of intelligent robotic process automation platform that amplifies the power of RPA using patented visual and deep learning technologies to improve operational performance.
"Kryon is not merely catering to the automation and digitization needs of companies"
As enterprises add more people and offer more services, business processes have become complicated over time. As a result, enterprises tend to lose focus on core ideation and strategy due to the essential tasks that occupy their time and effort. RPA streamlines all the areas of business, allowing more space and time for innovation, a necessity in a rapidly evolving market.
"This is where Kryon comes in. We provide futuristic virtual machines which can do any logic-based business process just as a person would. Our robots and virtual assistants in the organization drive enterprise digital transformation allowing companies to innovate and focus on their core business. As automation takes over the mundane, repetitive, and administrative tasks, enterprises can better utilize humans for innovation, which is their key contribution to an enterprise. That is the idea behind RPA and Kryon," says Harel Tayeb, CEO of Kryon.
Kryon is not merely catering to the automation and digitization needs of companies. It is going a few steps further to lead the transformation in the RPA market and help create a new generation of enterprises to leverage this new automation technology.
The Leo Platform
Kryon's flagship product is the Leo RPA platform. Its patented visual recognition technology allows it to execute tasks across any application, and even between multiple applications without integration. The scalable and secure platform can run quickly with limited reliance on IT resources, aiding enterprises which are looking to digitize but are burdened with legacy systems.
"In-house teams comprised primarily of process experts are quickly trained to use the Leo Studio to record business processes for automation. These tasks can be readily augmented using the extensive drag and drop Advanced Command library to incorporate scripts, programs, integration to databases, APIs, and more for a robust RPA solution. These automated tasks are saved on a server behind the company's firewall for security.
Tasks are easily assigned via the management console to the software robots for execution on virtual machines.
The new virtual workforce can be assigned tasks according to a schedule or by triggers based on changes to a folder, file or an email that was received. The robots simply download the process from the server and execute it. In fact, each Kryon robot can execute any and unlimited tasks ensuring that they operate at maximum productivity," explains Francine Haliva, VP-Marketing of Kryon.
The company is curating a hybrid environment which truly incorporates the virtual workforce into the organization enabling two-way communication between robots and people
"Kryon's RPA architecture enables enterprises to set up a true virtual workforce that is monitored and managed just as other department in the organization only whose workers perform more productively, more efficiently, and without human error," says Tayeb explaining the philosophy of the company.
Reinventing the RPA Market
Currently, the RPA market has two popular forms. The first is the unattended RPA market which automates rule-based repetitive tasks on virtual machines. Attended RPA (also referred as DPA – desktop process automation) facilitates tasks performed by employees ensuring that they are executed without errors and meet compliance needs. A few weeks back, Kryon launched a hybrid RPA option. The intelligent RPA solution extends both attended and unattended RPA to enable interaction between humans and virtual workforce, enhancing productivity across both ends of the business process.
The company is curating a hybrid environment which truly incorporates the virtual workforce into the organization enabling two-way communication between robots and people just as workers in different departments operate. Hybrid RPA allows people to send tasks for execution by robots on virtual machines with full visibility and alternatively, enables robots to send a task to a person when a decision needs to be taken. This bi-directional cooperation extends RPA beyond the individual tasks executed by robots on the virtual or desktop environment to unite the two workforces for end-to-end business process improvement.
"We want to reinvent the RPA market and its solutions. I believe that the leader in the RPA market will be that company that can establish a seamless environment where we harness technology to un-invent the business process. This is our vision," says Tayeb.
To that end, Kryon believes that today's RPA is in the initial stages of growth. While currently RPA mimics a person's actions to execute processes, it holds the potential to go ahead with revolutionary changes like virtual business process optimization and change or even replace the current process. The implementation hence should follow the path of an evolving technology, leaving room for future updates. According to Tayeb, "An enterprise can implement RPA in a steady and phased manner. Once RPA takes over the processes of a business, it can go further utilize the machine learning capabilities to identify additional tasks for automation and seamlessly creating the automation scenarios."
Telecom-to-Insurance Advantage

Haliva says that Kryon was able to help companies which did not have a planned approach towards RPA adoption. One of its clients was a leading telecom company's procurement department, which was looking for ways to improve efficiency in processing purchase orders. They turned to Kryon to see if RPA could provide a solution. While raising purchase orders is vital to the operations, it is often fraught with inefficiency and bureaucracy, involving intricate exchanges of information and authorization requirements. For example, a hardware reselling commercial contract can involve over 100 purchase orders. Manually, raising orders of this scale could take team of people over three days, but Leo robots could do it in 18-24 hours. "Thinking about the benefits in this scenario, the client realized that streamlining the process was not the only achievement, but also included improvements in contract adherence and SLAs and they couldn't be more pleased," said Haliva.

Yet another client of theirs was an insurance company which wanted to automate but was unable to, due to their legacy systems. Kryon came in, trained the team and summated their purchase orders and work order processes. The company was looking to perform reconciliation payments with their telecom service provider. The robots went through various banks' websites, checked the processes and made payments and performed it through Accounts Receivables. "The process need not be done by a human anymore," exclaims Haliva.

Partnering for a Better World

Kryon intends to grow fast and huge as many companies across the world are looking to RPA as part of the digital transformation endeavors. To accelerate this expansion, they have evolved a strategy to develop a strong channel of like-minded partners across the world. While they have a direct sales process where they work with clients closely, they view channel partners as an engine of growth. They partnered with other technology companies as well as consulting firms to offer a full ecosystem of products and services.

To accommodate the unparalleled demand to learn more about RPA, Kryon sponsors industry events across the world to meet business leaders, understand their needs and market their product. Recently, they sponsored RPA Asia Summit in Singapore. It was the first such event in the region, and Kryon believes that it is a testimony to the growth in the RPA market in Asia. Kryon believes that RPA as a market will grow and expand geographically but also hopes will trickle down to companies across sizes. Tayeb believes that the true strength and capabilities of RPA can be best explored when even small companies and SMEs also buy into the wisdom of easing processes.

Kryon expects to grow along with the demand in the market and the needs of the customers. For that, the company will have to reinvent the market not just from a technology perspective and product perspective but also from a mindset perspective. This will take RPA from simply a process execution platform to become a true process optimization or process replacement solution. "We have partnered with our customers to help them drive digital transformation within their organization and we see the development and innovation that RPA will bring as a means to not only address the issues that they are facing today but also those issues that they will face a year or two from now," concludes Tayeb.