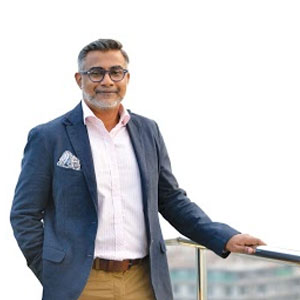 Raymond Devadass, CEO
The repetitive, complex, and erroneous processes that involve keeping track of an organization's day-to-day sales, invoice processing, inventory management, customer relationship management, and so on turn most businesses unfruitful and unyielding. Automating these processes will alleviate the businesses associated with the manual tasks that cost time and effort—making Robotic Process Automation (RPA) the need of the hour. However, only a select few companies that provide services that are technology-laden, quality-rich, and purpose-driven, which guide, enterprises to successfully deploy RPA solutions. The sole exception is Malaysia-based Daythree Business Services—a fast-growing regional business service provider in the areas of business and knowledge process, and IT services to global clientele.
Daythree embarked on a transformational journey about 18 months ago to become a fast-growing regional business service provider. "Improving operational outcomes with the use of cutting edge technology is what we see as setting us apart from our peers in the industry. We remain steadfast in our commitment in striving to harness technology and provide services that directly or indirectly improve efficiency, effectiveness, and service excellence for our customers," says Raymond Devadass, CEO of Daythree Business Services.
We have a clear vision of becoming a leading business service provider by employing cutting edge technology
As a company that envisions tomorrow's drivers while enhancing today's reality, Daythree Business Services offers clients a reliable implementation of the new automation technology, improving business processes that make organizations more effective and increase the capacity in their teams.
According to Devadass, the firm's RPA solutions and services are designed to reduce the repetitive clerical processes and customer's operational cost by at least 25- 50 percent. Daythree uses a human-action automation framework as a basis to enable non-intrusive connectivity to existing legacy applications thereby executing actions configured and defined for various tasks. After aligning and developing a strategy at the corporate or functional level, the firm conducts an assessment of RPA potential and organizational maturity. The firm will conduct assessments in the areas of processes, information technology, human resource, and even business location. "We recommend deploying RPA on specific processes or tasks identified to validate the business case for RPA. This helps the various stakeholders in the organization to identify the potential of RPA before implementing for various other processes within the organization," asserts Devadaas.
In the sphere of business process, the firm focuses on enhancing client's business performance by streamlining processes, improving process efficiency, and reducing operational cost without the client having to invest in requisite technology and skills. "What sets us apart from our peers in the industry is our strict adherence to world class standards and best practices to foster a high-performance culture for our customers," adds Devadass. Adherence to standards include COPC Standard (Customer Operations Performance Centre) and Payment Card Industry Data Security Standard (PCI-DSS).