Demystify RPA: The Key to Enhanced Business Efficiency
By Quang Nguyen, Managing Director, Ataway Japan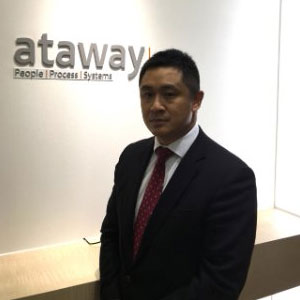 Quang Nguyen, Managing Director, Ataway Japan
Robotic Process Automation (RPA) is smart software that interacts with business applications to streamline processes.
RPA solutions are designed to mimic the same "manual" paths taken by a human by using a combination of user interface interaction. RPA solutions operate by mapping a process, so the "bots" (RPA program) can follow it to process transactions across multiple systems. The RPA tool can be triggered manually or automatically, move or populate data between prescribed locations, document audit trails, conduct calculations, and perform actions.
With RPA, organizations can automate the repetitive, tedious, time-consuming, rule-based processes involving structured data, high-volume, manual work that is reducing productivity and efficiency. Some examples of tasks that can be automated by RPA are onboarding customers or employees, reconciling financials, and updating customer or vendor information in the systems of record. When an RPA solution is implemented, it performs tasks just like a human would: logging in, operating applications, entering data, performing complex calculations, and logging out.
Robotic process automation is a great way to automate your ERP system, for example. Say you need to enter data into your ERP application, and that data gets uploaded to SharePoint. Your RPA solution can notice when the data arrives on SharePoint, loop through it to find the specific data needed, enter it into the ERP, and email you to let you know the process is complete.
Organizations can gain benefits of RPA by expediting back-office and middle-office tasks in a wide range of industries, and areas such as finance, procurement, supply chain management, accounting, customer relationship management and human resource management.
RPA solutions are great if your organization has many different, complicated systems that need to interact together fluidly. RPA solution can capture and interpret the actions of specific processes in existing software applications, it can then manipulate data, trigger responses, initiate new actions, and communicate with other systems autonomously.
With RPA, organizations can automate the repetitive, tedious, time-consuming, rule-based processes involving structured data, high-volume, manual work that is reducing productivity and efficiency
The bots can also be used for data Transformation and Mapping, or Workflow, connect an OCR system, as a connector in between ERP's, SuccessFactors, and Oracle Cloud ERP for example or to monitor or process.
Robotic automation provides a way of reducing operating costs while also facilitating agility as the organization responds to customers' evolving needs.
The impact of RPA's capabilities on a company's operations and competitive positioning are significant and can be felt on a number of fronts.
ROI
RPA can reduce operational costs and attain ROI goals faster than a traditional ERP deployment. First the RPA solution will be deployed to a specific process, business unit or function, which means the solution can be deployed faster. Second, RPA works through the user interface and avoids traditional process integration. RPA reduce integration needs and implementation times which lower costs and create faster ROI than most other solution available in the market.
Workforce advantages
Organizations can shift repetitive, tedious, time-consuming, high-volume, manual work to the bots and let employees focus on more value-added task.
Automating these repetitive tasks alleviates the boredom and frustration of the day-to-day grind. In some cases, according to Forrester, the use of RPA can lead to the creation of higher-skilled positions, and 64 percent of respondents in a recent survey said their companies were using automation because it freed staff to do other tasks.
Quality and control improvements
RPA automate expensive and error-prone manual processes. Every step in the process, every activity performed, and all sources of data have a digital audit trail. Organizations can embed thresholds and guidelines into the automated processes, expediting testing and risk compliance. This reduces errors, improves quality and compliance.
Flexible execution
RPA initiatives can be deployed on a variety of scales. Some small scale deployments can realize benefits within a few weeks while benefits from larger scale transformations may take 6 to 12 months.
"When choosing a pattern to support your effort for your digital transformation, you should look at a partner that not only has expertise in RPA but also in change management and the business processes you are looking to streamline. We believe digital transformation with RPA is the time to rethink processes and adopt best practices.