Augmenting Human Intelligence
By Nigel Parker, Principal Software Engineer, Commercial Software Engineering, Microsoft Asia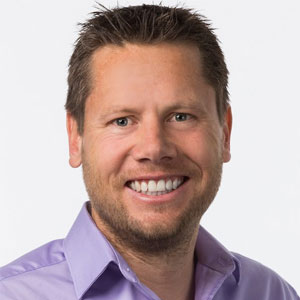 Nigel Parker, Principal Software Engineer, Commercial Software Engineering, Microsoft Asia
Artificial intelligence (AI) is the process of teaching computers to understand human beings. As well as to become more human-like, AI has the potential to be a powerful and pervasive factor in our everyday lives, transforming industries from automotive to manufacturing, healthcare to education, and we are only just starting to scratch the surface of its potential.
Access to vast amounts of computing power and data has helped transition deep learning from the lab to the hands of businesses and individuals, and this is unlocking many exciting areas for AI – for example, the development of autonomous vehicles, as well as recent projects like "Seeing AI" that narrates the world for the low vision community.
The AI evolution provides significant opportunities for people and organizations in Asia. Imagine what it would mean for our region, if we could all understand each other? Significant AI technology breakthroughs such as Microsoft Translator now enable up to 100 people speaking nine different languages to converse together in real-time, making universal translation a reality. This type of technology was put into real use when I recently presented to a room full of students at KAIST University in South Korea. I was speaking in English and my words were live-translated into Korean subtitles using Microsoft's Presentation Translator. It certainly kept the hundreds of students in the room engaged, and when they saw translations of their 'oooh's and 'aaaah's into Korean subtitles, they broke into applause! I've never experienced this with a non-native English speaking audience, and felt very connected to the students in the room.
Among the many stories I can share with you about how AI is helping people in Asia, the ones that have made the biggest impact have been those that have helped improve people's health.
Artificial Intelligence is teaching computers to be more human, and this technology may ultimately make us better humans
For example, ALI Health, a member of the BP Healthcare Group of companies, created Doctor2U, a digital health app that uses Microsoft's intelligent cloud services to integrate machine learning models to harness data insights and deliver more effective treatment plans for patients. The Hue Family Medicine Center in Vietnam is also trialing a similar healthcare bot. In New Zealand, Volpara is using machine learning to analyze data from a large sample set of images to aid in early breast cancer detection from mammograms.
But innovation isn't just limited to larger organizations; we've seen student projects that have also been inspired by AI. Team Parasitica from the Bangladesh University of Engineering and Technology recently created the "fasTnosis" app, using Microsoft's Cognitive Toolkit to help better and more accurately diagnose patients in remote areas via inputs of microscopic images into the app. This helps reduce the time for diagnosis while increasing the accuracy, and in turn, reduces the probability of misdiagnosis.To improve the effectiveness of their model, Parasitica is partnering with the national TB and Malaria organization of Bangladesh to access more training images. The success of the service will enable patients to go straight from a photo to treatment, reducing wait time significantly.
I have my own AI story as well. I have been tracking my personal health data using wearable technologies over the last four years. Automating the process of tracking this information in combination with Microsoft's machine learning has helped me think more proactively about my health and fitness, and this has helped me improve my overall well-being. I now get an SMS pushed to me when my body is stressed or show early signs of falling ill so I can adjust my own behaviours.
Despite the fears created by Hollywood about the notion of intelligent machines, I believe that people and machines bring different attributes to the table. People have creativity, empathy, and emotion. Machines can reason over vast amounts of data and detect patterns that no human can discern, augmenting and expanding human capability in ways that are both tangible and magical.
Artificial Intelligence is teaching computers to be more human and this technology may ultimately make us better humans. It will give us "superpowers" to meet challenges of all kinds. We must, however, follow some essential design principles. AI must be transparent and secure, set the highest bar for protecting privacy, while also being inclusive and respectful to all. Technology should complement, rather than substitute, human labor. If business leaders change their mindsets from a focus on labor-saving and automation to one that is a maker and creation mindset innovating on business models, we will create richer experiences and possibilities in this AI-empowered world.